Kenneth Cole Watches Review
(Modern, Bold, Affordable)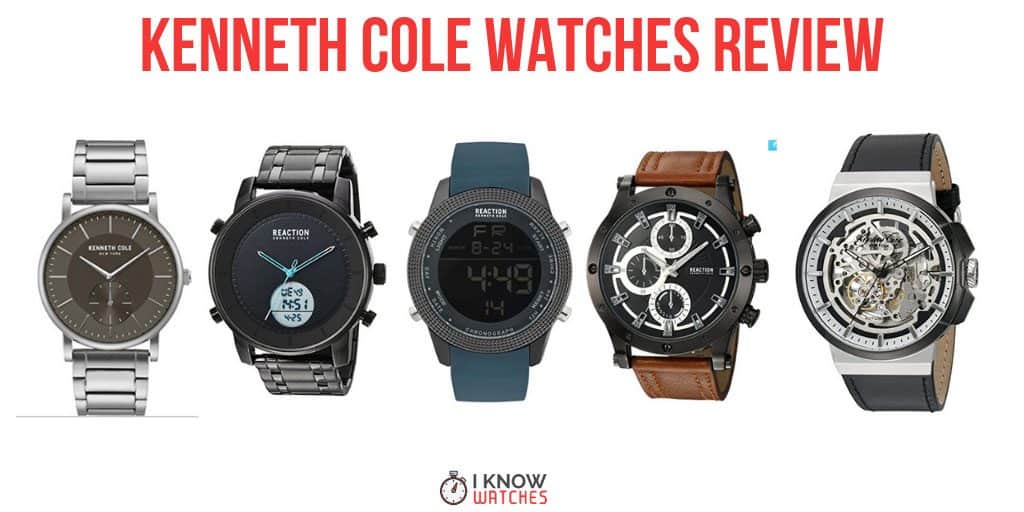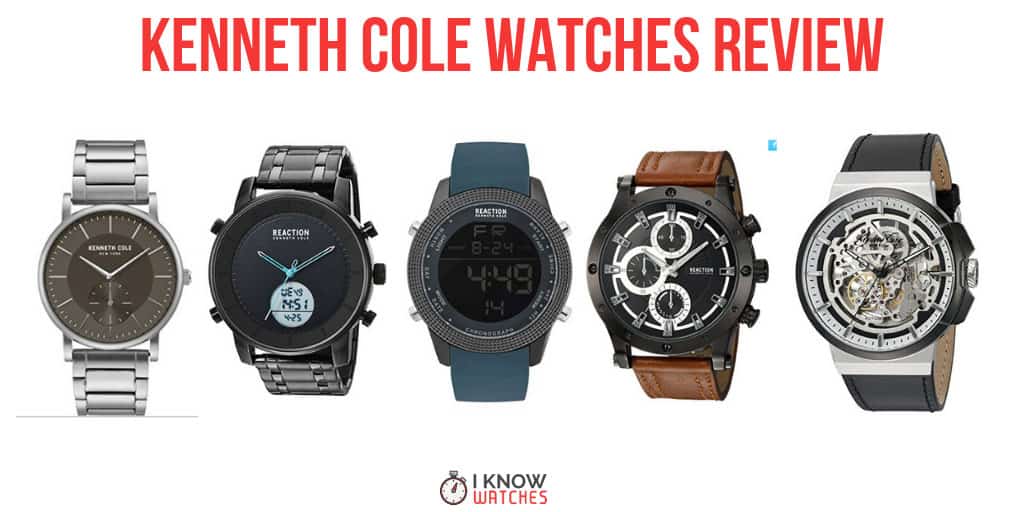 kenneth Cole are a fashion brand that, like many in their niche, has recently branched out into watches.
Their flair for design can be easily seen in the watch designs, but of course these are no Rolex or Omega. They are made by a watch manufacturer, most likely in China and will cost you next to nothing.
However, if you want something that looks great, and are affordable enough that you can get more than one to match your different dress styles (casual, formal, unique) then it might be a great option for you.
In this review, I am going to cover some of their most popular models, so you can quickly find a great fashion accessory for yourself.
1. Kenneth Cole Reaction Triple Gray
This is a very modern looking watch that takes its design cues from good old minimilistic Bauhaus designed watches. If you like simple watches like this, you might also want to take a look at Skagen.
The case is a very simple, thick and round affair, with a matching oversized dial. The numbers are bauhaus to a tee, with the numbers matching the orientation of the case. Aside from the square alignment of the minute markers in the center, there is little else of note on the dial. Although the hands are nice and bright, making this an easy watch to read in the dark.
Just keep in mind that this is quite a large watch at 53mm wide, so will suit someone with a thicker wrist.
2. Kenneth Cole New York 'Diamond'
Another minimalists dream. This dress style watch from Kenneth Cole is a little larger than typical dress watches, at 44mm, but still stays true to the style.
The face is a simple black with gold colored, thin hands and hour markers. The case is a thick, black steel with stainless steel lugs and an unusual crown. It is all topped off by a sleek black leather strap, which anyone would be proud to wear on their wrist.
3. Kenneth Cole New York 'Casual'
Still keeping with a very clean design, this "casual" model adds a few more interesting touches to the typical dress watch. First, it has a small seconds sub-dial at 6 o'clock, which will certainly garner interest from anyone checking the time on your watch. Also, the stainless steel bracelet is more in line with a dive watch, but works well with the matching steel case.
The dial itself is a clean gun metal with a slightly darker interior and fine silver hands and markers. Overall, it's an unobtrusive but stylish design that would accompany anyone well out on the town.
4. Kenneth Cole New York Automatic Skeleton
If you are looking for a more "out there skeleton style watch, then this brash design from Kenneth Cole might be your lucky new watch. With the thick black case and large crown protectors, it is certainly not shy.
The internals of the automatic movement are on clear display, with a large portion of the dial being dominated by the skeleton window. The hour and minute markers are really taking a back seat to the rest of this watch. The final touches are an unusual one-piece lug connected to a stitched, black leather strap.
5. Kenneth Cole REACTION Chronograph
Another classic watch style many people are searching for is the good old chronograph. Kenneth Cole have certainly not ignored that genre, with this bold black and white model.
The case is again quite large, with chronograph pushers and a crown to match. The screws at the apexes are somewhat reminiscent of a Hublot or perhaps even a  Royal Oak, although without their signature shape.
The light brown, stitched leather strap with the pronounced lugs is the last noteworthy part of this watch, bringing it all together.
6. Kenneth Cole REACTION 'Sports'
Another noteworthy design I wanted to mention is the Reaction Sports model. It is a hybrid digital/analog with the signature KC thick case and dark dial. The outstanding light blue hands are a nice design touch, as is the digital sub-window at 6 o'clock.
This is a watch for those that like the old-school combined with the new, along with modern and minimalistic.
It also comes in a gold model which is also shown here.
7. Kenneth Cole REACTION 'Digital'
The Reaction Digital is a standout piece from the Kenneth Cole range, because it is just so unique in design.
It certainly won't appeal to everyone, but for those who like dark, modern timepieces, this is a worthy everyday watch. Again, KC have added a thick, gnarled case on this watch, with a matching thick silicone band. The digital display is also quite dark, which might be a little hard to read, but adds to the allure of this foreboding and moody watch.
But, just one final note, in case you don't like the color, there are some lighter options below. Just click on the image.